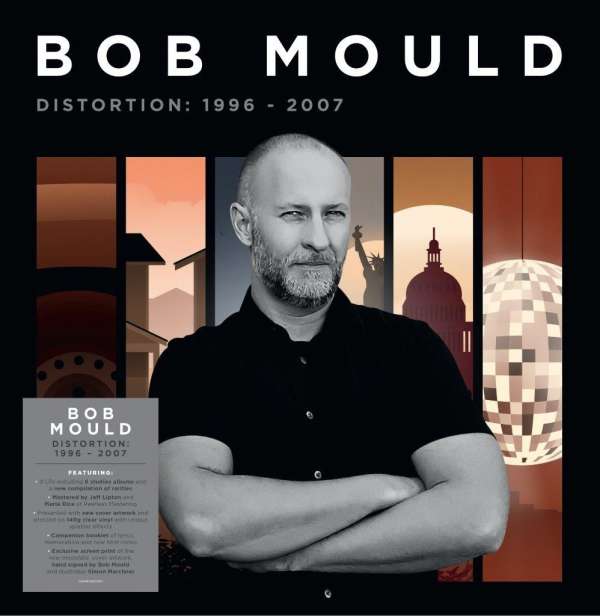 We have now added US links below for where you can buy the vinyl box, plus a link for German fans.
#Distortion: 1996 – 2007, part 2 of the #vinyl box sets chronicling the solo career of Bob Mould, released on the 22nd January 2021.
"It's called Distortion because it describes the music and it fits the world we live in." — Bob Mould
6 studio albums across 8LPs , including 'Bob Mould', 'The Last Dog And Pony Show', 'modulate.' (first time on vinyl), 'Long Playing Grooves.' (first time on vinyl), 'Body Of Song', and 'BLOWOFF' (first time on vinyl)
Each album is presented with brand new artwork designed by illustrator Simon Marchner Design & Illustration and pressed on 140g clear vinyl with unique splatter effects.
Accompanying the studio albums is a new compilation Distortion Plus: 1996 -2007 which features an array of bonus tracks including the demo version of 'Dog On Fire' (Theme from The Daily Show ), B -sides and other rarities (pressed on clear vinyl).
Includes a 28 page companion booklet featuring: liner notes by journalist Keith Cameron; contributions from Death Cab for Cutie's Benjamin Gibbard and Best Coast's Bethany Cosentino; lyrics and memorabilia.
Mastered by Jeff Lipton and Maria Rice at Peerless Mastering in Boston.
There is an indies only exclusive available, limited to 750 worldwide, featuring a signed screen print by designer Simon Marchner and Bob. Check out the links below
Plus a list below of US outlets supporting the box set