Bob releases a documentary style video about his deep connection with the city of Berlin.
Bob teamed up with Tym Guitars to create a signature Sunshine Rock pedal!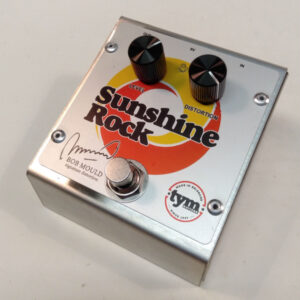 PRE-ORDER PEDAL
"The Sunshine Rock distortion is all hand made by Tym Guitars and is essentially the same circuit as the Beauty & Ruin and Sky Patch distortions made previously for Bob with new artwork to celebrate Bob's new album Sunshine Rock. It uses the classic 741 IC, just like the originals and two silicon diodes for clipping, giving a slightly clearer and crisper distortion than the earlier germanium based units. Component values are based on my two favorite early 80's units with some very slight changes in a couple of component values to fine tune it to these two." — Tym Guitars
The pedal is built in custom made stainless steel enclosures and has the typical volume and gain controls with a yellow LED, true bypass switching and is powered by a standard Boss style 9V adaptor jack.